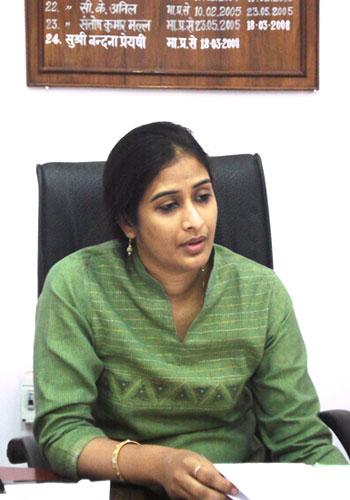 One of the most fascinating aspects of Elections 2009 is that it is being supervised in the districts by dashing young members of the IAS.
Young civil servants, not more than half a dozen years in the bureaucracy dare to take on the mightiest politicians in the land and ensure that the general election is conducted without fear or favour.
Archana Masih meets the lady district magistrate of Siwan, who probably has the toughest job in Bihar. Photograph: Seema Pant
Bandana Preyashi carries four cell phones these days. Taking a connection from every cellphone network available in Siwan, she has distributed all the four numbers on photocopied sheets to her staff so that they can be in constant touch during the crucial days before Siwan goes to the polls on April 16.
"Siwan has had a history of poll violence and our greatest challenge is to conduct a fair and peaceful election," says the 2003 batch IAS officer, an alumnus of St Stephen's College, Delhi [Images].
In the 2004 election, 171 electronic voting machines had been broken in the constituency. This year, of the 1,763 polling booths, 551 are marked as super sensitive. 15 companies of paramilitary forces and 5,000 personnel from the Bihar Home Guards have been deputed for poll security.
Apart from this, 10,400 government staff have been inducted into poll duties in the constituency where imprisoned Rashtriya Janata Dal MP Mohammad Shahabuddin has won four successive elections.
"We have to strike fear in the hearts of those who think they can resort to violence or break the law on polling day," Preyashi tells rediff.com in her office in Siwan.
"We have done extensive vulnerability mapping and have scanned the area. We have identified people who have been prevented from voting in the past and those who were responsible for it. The effort has helped build confidence in the voter."
One of only two lady district magistrates in Bihar, Preyashi conducted the panchayat and the 2005 assembly polls in her last jurisdiction as sub divisional officer in Barh, near Patna. Known for being a no-nonsense and bold officer, under her supervision, Barh, otherwise infamous for its gun-power, saw an incident-free panchayat election.
"In Siwan, the 2005 assembly election was a landmark. It was largely peaceful and I think it will be peaceful this time. The rule of law is visible," she says.
In an effort to encourage voters to come out to cast their vote, the administration has been playing a film in local cinema halls, at community centres and on the local cable television network, telling voters how to vote.
The district election control room has been entrusted with the task of gathering feedback from local residents in order to assess the situation near polling booths.
Preyashi has been spending hours out in the field, meeting voters, inspecting campaign vehicles herself, assessing the security at the polling booths and spreading the word that the strictest action will be taken against anyone who breaks the law on polling day.
"You have to delegate and trust. The grassroot work force has to be motivated and you have to lead by example," says the district magistrate who has built up a credible reputation in her relatively short career.
She is known to have taken on controversial Janata Dal-United legislator Anant Singh in Mokama in an earlier stint when she sealed all his food grain godowns after the state government ordered that all godowns in the state be shifted to market committees.
As the Returning Officer in Siwan, she is responsible for the conduct of the election.
Following a rigorous schedule for several weeks now -- her day ends in the wee hours of the morning and the phones begin to ring from 6 am onwards -- she is making an enormous effort to see that Siwan witnesses a fair election.
"This chair (the DM's) is asexual. It does not matter if you are a man or a woman. Everyone here calls me 'Sir'," she says with a smile when we asked her about being a woman at the helm of affairs.
The district magistrate is the most powerful government official in any district and Bandana Preyashi, who has already finished a year in Siwan, is determined to leave her mark behind.
Source : Rediff.com