Juicy litchis are like manna on a hot summer's day. Bihar is the largest producer of
this fruit in India, but litchi growers in the state are treading a rough road to serve
this 'delicate darling' on our tables, writes Sanjay Singh
LITCHI is a native fruit of China, which is still its largest producer in the world. However, the growing acceptance of this rare fruit in other Asian and western countries has made it a widely consumed exotic one.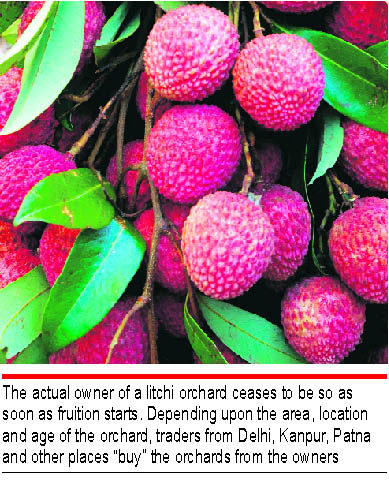 India is the second largest producer of litchi and Bihar accounts for about 70 per cent production of this high-value exotic fruit. According to statistics of the Bihar government, litchi is grown on 29,000 hectares and the annual yield of this highly perishable fruit is about three lakh metric tonnes.
The most popular varieties of Indian litchi grown in Bihar are shahi and 'China'. Litchi is grown predominantly in North Bihar districts like Muzaffarpur, Vaishali, Sitamarhi, east and west Champaran, Samastipur, Begusarai and Bhagalpur (Naugachhia). A delicate aroma and flavour make shahi litchi the best variety of Indian litchi. As it is grown in a radius of 50 km around Muzaffarpur, it has become famous as "Muzaffarpur litchi". Because of its high demand in metropolitan cities and overseas markets, the Bihar government has taken the initiative of obtaining regional patent rights called GI (geographical indications).
Although there is great demand for shahi litchi in fresh, as well as processed form, litchi farmers in the state are more interested in making new plantations of China variety. This is because this variety gives high yield and thus is commercially more profitable.
Shahi litchi is the early variety that is harvested between May 15 and 31 and China litchi is considered to be the late variety.
Apart from the demand of fresh litchi in the metros, this fruit is also in great demand in Europe and the Middle East. But there are only three export houses of litchi in Bihar. The total export of litchi from Bihar does not exceed 30 meteric tonnes, which is not even one per cent of its total produce.
The Director of Amarapali Agro Foods, Mrityunjay Mohan, who exports Muzaffarpur litchi to Holland and Dubai, says that there are a lot of constraints in exporting this highly perishable item. According to him, litchi has a short shelf life and all kinds of research on it has not been able to extend this fruit's shelf life beyond three weeks after harvesting.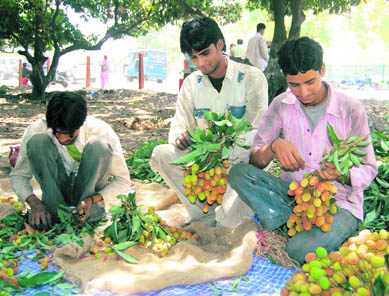 Litchi has a short shelf life and requires highly efficient handling right from plucking till the time the fruit reaches a customer
Photos: Deepak Kumar and Anil P. Rawat

Moreover, it requires very efficient handling right from plucking it from the orchards at proper maturity level till the time the fruit actually lands on the table of a customer. The different stages involved in exporting this fruit after plucking are : primary sorting and grading; pre-cooling the fruits to a specific low temperature with very high humidity before sulphur fumigation; and sorting and grading the fruits again before packing in two and five kg packs.
The most important factor is to maintain a cold-chain till the consignment reaches its final destination. The fruit has to be protected from "temperature shocks" or it would immediately lose its colour, aroma and taste, said Mohan.
This exotic fruit fetches a good price in the international market as the exporters sell Muzaffarpur litchi for 5 to 6 Euros per kg.
But the risk factor involved is also great. If the cold-chain is broken due to any chance mishandling and the fruit suffers a "temperature shock", the buyers reject the entire consignment and in that case the exporter has to bear the cost of dumping the consignment into the sea as well.
Besides being consumed as fresh fruit, the processed by-products of litchi are also in great demand. There are 10 litchi-processing units functional in Bihar at present, which produce litchi pulp, squash and juice. Together they consume only about 3,000 metric tonnes of litchi, which is hardly 10 per cent of the total fruit produced in the state.
The Managing Director of Amrapali Foods Limited, Hajipur, K.P.S. Keshri, who is into litchi processing for the last 18 years, says that despite producing the worlds's best litchi, the fate of`A0Muzaffarpur litchi does not appear bright. According to him, the owners were not maintaining the orchards of litchi in and around Muzaffarpur properly.
Keshri blames the involvement of many intermediaries in this trade for the plight of farmers. As per the prevailing system, the actual owner of a litchi orchard ceases to be so soon after fruition starts in his new plantation. Depending upon the area, location and age of the orchard, traders from Delhi, Kanpur, Patna and other places "buy" orchards from the actual litchi growers. The deal may be for just one season or more.
Once the litchi tree starts flowering, another set of traders gets involved and "buy" it from the first set. Similarly, when the fruiting takes place yet another set of traders jump into the business.
Finally, it is the traders' representative who sells the matured fruit-laden orchard to the processing units, export houses and other bulk purchasers. At all these levels the traders are interested only in booking their profits and not about the proper care and maintenance of the orchards. "As a result the orchards are losing their fruit-bearing capacity with each passing year", says Keshri.
The president of the Litchi Growers Association in Bihar, Bacha Prasad Singh, who owns a 6-acre orchard of litchi located 40 km away from Muzaffarpur, "sold" it to the traders for Rs 60,000 even before flowering had started. But what was the compulsion to sell off the orchard at such a low price? Singh says that there was no pucca road to his orchard and the fruits have to be transported on a tractor for a distance of 10 km before being finally loaded on to a truck. He also rued the pathetic power supply situation in the area. This makes the cost of irrigating his orchard very high, as he has to use diesel engines to power his tubewells.
An informed litchi-grower, Singh feels that very little research work was being done by the government agencies on improving the production of litchi in India and whatever little work was being done was also not reaching the growers effectively.
Because of lack of information and facilities, the growers are not able to irrigate their orchards properly. They are also ignorant about the use of correct amount of fertilisers and pesticides at the right time.
As a result an average litchi tree in the area is not getting proper nutrition or water required for bearing proper fruits and there is high incidence of pest infection, which causes uneven flowering and poor quality of fruit.
The government agencies and research organisations should work together to ensure a continuous supply of high-quality litchi for domestic consumption as well as for the export market so that litchi remains Bihar's bounty.